Taste, Rest, and Dignity gift of partnership guidance
Gift Certificate
Varumi Inter-burgo Gift Certificates are conveniently available at the hotel's various locations. It can also be used at the Barumi Sushi Buffet, Bareumi Shabu Shabu N Kalguksu (head office), and Bareumi Luxury Hanwoo(Korean Beef) Center.
BARMI INTERBURGO CERTIFICATE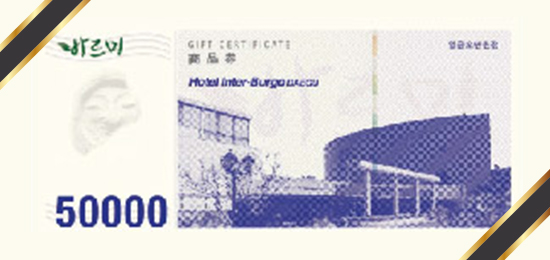 BARMI INTERBURGO CERTIFICATE PURCHASER
On-site sales

Hotel Inter-Burgo Daegu Room Front Desk

053-602-7114
Gift Certificate Inquiry

Accounting Team

053-602-7128

(Telephone consultations

09:00 ~ 18:00
Gift Certificate Information

When using gift certificates,

cash receipts

can be issued.
The validity period of the gift certificate is

5 years from the issue date.
It is not possible to purchase gift certificates with Samsung Card, and it may not be possible to purchase at a specific time due to lack of sales limit of specific card company hotels.
Available companies (6 locations))
Bareumi Hotel Inter Burgo Daegu

Palhyeon-gil, Suseong-gu, Daegu 212

* All businesses (limited to direct business)

Bareumi Shabu Shabu N Kalguksu

Deulan-ro 82, Deulan-gil

* Other stores are not available

Bareumi Sushi Buffet

Muhak-ro 78, Suseong-mok, Suseong-gu, Daegu

Bareumi Luxury Hanwoo Center

Daegu Suseong-gu Murakami-ro 78

Bareumi Sushi Buffet Select

Daegu Jung-gu Dongseongro 6-gil 61 (Gongpyeong-dong)
dongseong-ro spark 4F
Hotel Inter-Burgo Guidance on Gift Certificates Available in Daegu
Hotel Inter-Buro Daegu Gift Certificate

National Tourist Gift Certificate

Bareumi Sushi Buffet Gift Certificate

Daegu Department Store Gift Certificate

* Food-only purchases are not allowed
Other unmarked gift certificates are not available.